At LOLADOO, we are big fans of interior design. After several hours (weeks? Months?) Pacing the stores for home and e-shop, our eyes have been sharpened to detect the most promising products.

If we love to make you enjoy our good plans, we must admit that we use it too. After all our research to give you a list of 37 alternatives to IKEA, cheap outdoor deco shops or low-priced decorations, our hearts have flashed over a few names.

Today, we all gather to present our cream of the crop. Browse our list of home stores for home decor, furniture, storage, maintenance and even gardening and DIY. Discover new brands or focus on certain products.
All these shops for the home are selected perfectly independently. You will even find pictures of some products in our interiors!

We hope you enjoy this house sign, that it will help you decorate your home or give you ideas for unusual gifts.
Our favorite products: the small decoration
The perfect concept store to find the decorative piece that was missing in our interior. The house shop Rue Trousseau in Paris is a real cave of Ali Baba staged Urban Jungle way.

The e-shop house is also full of references as specific as the general public: vases Bloomingville, gold frames Madam Stoltz, Olli Ella baskets, House Doctor cutting boards, Herbivore candles or stools Snowdrops Copenhagen.

Convenient when you have to make a gift that stands out at a low price. The plus: a selection of furniture and vintage decorative objects ranging from the traditional French flea market to the Nordic design of the 50-60 years, which makes me a favorite at every restocking.
Our Favorite products: illustrations and frames
To decorate a room, nothing like a few pretty posters. I like to hang on the walls or to have in my decoration some inspirational posters. And especially I like to change from time to time, according to my desires.

LOLADOO  is a nice online store to buy different types of posters: cards, illustrations, quotes ... without breaking the bank!

And the little extra? The house brand offers trendy metallic frames that exactly match the dimensions of the posters! 
Our favorite products: essential oil diffusers
For years, I use diffusers of essential oils. It is great for purifying the air, but also to enjoy the benefits of these natural oils: de-stressing, soothing, purifying ... But the diffusers are sometimes unattractive!

It is in the house store Nature & Découvertes that I find models design, trends and I do not want to tidy up when they are unused. It's simple: they are an integral part of my decor!
Our favorite products: original posters and posters
The house brand Juniqe offers large collections as unique as ever around pictorial works and frames.

My first experience with the store for the house was a huge drawing that was offered to me for my birthday, I was delighted!

The paper is of quality, the posters do not look like any other and the variety of the collections makes it possible to change regularly. In my opinion, everyone can find happiness at Junique!

Affordable prices and options with or without a frame adapt to your desires. For most products, be aware that there are several sizes to find the one that best suits your wall and your wallet.

The delivery is rather fast and I have nothing to say about the protection of the posters during the transport.
Our favorite products: boxes and storage accessories
After finishing the miniseries devoted to the art of storage of the specialist in the field, Marie Kondo, my closets and drawers were entitled to a real upheaval.

To organize, order and make accessible each object, I rushed to the Japanese home decoration sign Muji to get me their filing and storage accessories.

They are all more convenient than the others: cotton bags, rattan baskets, compartments, always in a very minimalist design and easy to integrate into any interior.
Our favorite products: furniture to create a room like armchairs and sofas
In my opinion, the house brand MADE.COM is a true reference in terms of design, especially with regard to furniture to arrange the different parts of an apartment.

This brand is at the forefront of different trends and offers collections of several styles, materials and even budgets. Its ambition is to make design accessible to all by offering quality items at affordable prices.

Take the chairs and sofas for example ... The brand has learned about the trend of velvet via trade shows and has integrated into its range.

Result: pieces with unique design, pleasant touch and absolute comfort. I love this beautiful armchair velvet green fir.

His curves, his color, his brass feet ... No detail is left to chance and I dream to slip to read a good book!
Our favorite products: bedding
Zara Home offers beautiful sets for the bed, like these white sheets with pretty lemon patterns for which I had a real crush.

Most of the trimmings are made of cotton and are available in all the sizes of beds that exist.

But the house brand Zara Home, it is also chic and cozy accessories for the bathroom, tableware and textiles for the table or decorative objects design and trend.
Our favorite products: used furniture
Not really an online store, but a good place to build and furnish secondhand.

If you are spending time on Facebook, take advantage of it to discover the great deals available in your area. A good alternative to Le Bon Coin!

For example, there is plenty of IKEA furniture, collections that are sometimes not available on the site of the sign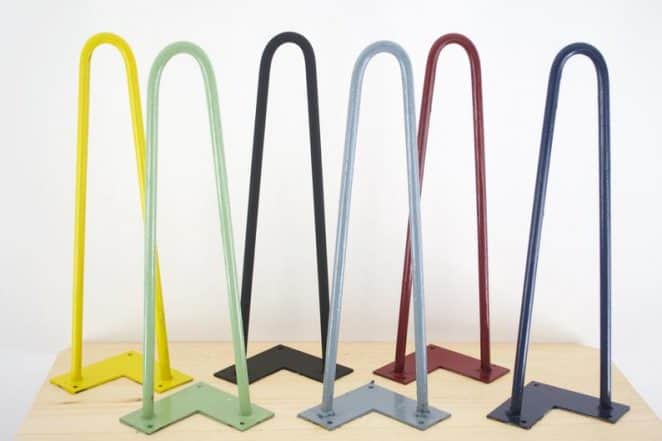 Our favorite products: DIY accessories and supplies
I use Etsy so much to find original and unique gift ideas as for DIY supplies and accessories.

The gift card to send by email saves life for last-minute gifts! You can also buy table legs, door knobs, removable wallpaper ...
Our favorite products: the small household appliances
Having recently moved, I do not count Amazon orders to equip the kitchen with utensils and small appliances.

I also appreciate the fact that their customer service is super responsive and efficient, in case of problems, peace of mind when ordering online.
From the wide sofa to the teaspoon to posters, plants and crafts, we have grouped everything that seemed essential.

Made in France, European design or inspirations from elsewhere are reflected in our eclectic palette. Whatever your tastes and those around you, we hope you find yourself in our choices of home stores.

Like us, you also have favorite homemade shops, let us know in the comments! We will not hesitate to share good deals.
Visit our website : loladoo.com and find a nice canvas print or painting
For a contempory style go to : https://loladoo.com/collections/nordic-style
For a one million dollar look, look at our famous paintings reproductions : https://loladoo.com/collections/famous-paintings
For oil paintings made by our artists : https://loladoo.com/collections/100-hand-painted